NISTCSF.COM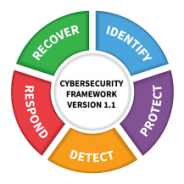 NISTCSF.COM is a NIST Cybersecurity Curricula Consortium created by itSM Solutions, Academia and other industry partners to create a standardized set of accredited curricula for NIST Cybersecurity Framework design, implementation and workforce development.
The consortium's goal is to provide high schools, community colleges, universities and private training institutions access to print, digital book and video NIST cybersecurity curricula that can be delivered in a classroom, virtual classroom, as a self paced video or a blended learning training program.
NISTCFM.COM Presentation
Professionalizing Cybersecurity – A path to universal standards and status
The genesis of the NISTCSF program was a Professionalizing Cybersecurity report written by Francesca Spidalieri a Cyber Leadership Fellow at the Pell Center for International Relations and Public Policy at Salve Regina University and Lt. Colonel Sean Kern, USAF, CISSP, Cyberspace Operations Officer, is currently assigned as a student at the Joint Advanced Warfighting School, Joint Forces Staff College, National Defense University.

The report addresses the widening gap between the supply of qualified information security
professionals and the demand for skilled workers to secure critical infrastructure and
cyberspace. It sheds light on the current status of the cybersecurity labor market,
which is best characterized as a fog of competing requirements, disjointed development
programs, conflicting definitions of security roles and functions, and highly fragmented,
competing, and often confusing professional certifications. The report proposes an alternative to the current, ad hoc, decentralized approach to cybersecurity workforce development. Instead, the report proposes the creation of a national professional association in cybersecurity to solidify the field as a profession, to support individuals engaged in this profession, to establish professional standards and prescribe education and training, and, finally, to support the public good. The American Medical Association (AMA) and the American Bar Association provide similar functions in their respective fields.
NISTCSF.COM Curricula Publishing, Accreditation, Distribution and Delivery Partners
The following companies have banded together to provide academia with an agile development and distribution environment for the creation of standardized curricula that will be used to train and certify the nation's cybersecurity workforce in alignment with the NIST Cybersecurity Framework (NCSF) and the NICE Cybersecurity Workforce Framework (NCWF).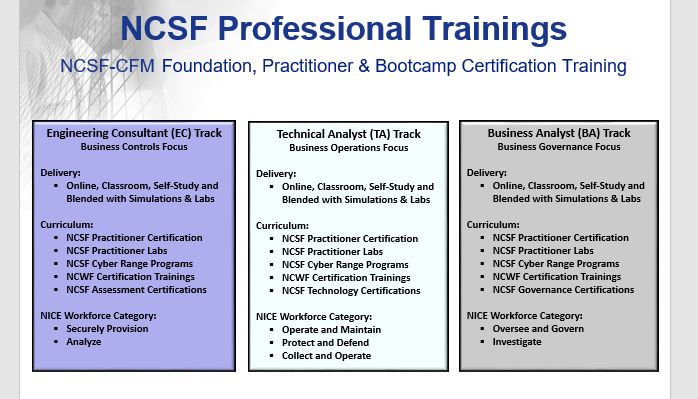 Curriculum Publishing
itSM Solutions a global publisher of print, digital book and self paced video training curriculum for global best practice certification training programs. itSM's ability to create content that can be delivered in a classroom, virtual classroom, as a self paced video or a blended classroom makes its offering unique in the industry. itSM's inaugural program NCSF-CFM, was built in partnership with UMass Lowell (UML) a NSA/DHS National Center of Academic Excellence in Cyber Defense Research (CAE-R).
Curriculum Accreditation
Acquiros a U.S. based ISO 17024 certification body for content accreditation and exam services
Curriculum Distribution
Arvato Training & Education Services a global eCommerce platform an integrated eReader application which delivers print and digital book versions of the NISTCSF.COM curriculum to students anywhere in the world
Curriculum Delivery
Delivery partners will include high schools, community colleges, universities and private training companies who will have access to content that can be delivered in an instructor led classroom or virtual classroom, as a self-paced mentored video training program or as a blended learning solution combining the best of self-paced mentored video training with instructor led review sessions.
Copyright © 2017 itSM Solutions LLC