DxCERTS All Access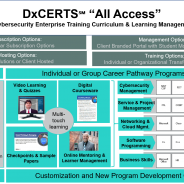 DxCERTS "All Access" Enterprise Subscription Program
The DxCERTS "All Access" enterprise subscription program enables enterprises of any size to assign to its organization the NIST/NICE IT and Cybersecurity training programs required to learn the knowledge, skills and abilities to identify, protect, detect, respond and recover from cyber-attacks.
This affordable, easy to use training and management program not only helps organizations get the right training to the right person at the right time at the right price but also equips management teams (HR, Learning & Development and Department Managers) with the management and reporting tools necessary to ensure a successful training outcome for both the student and employer. The DxCERTS "All Access" subscription program also provides enterprises with the capability to create the "workforce skills report" that might be required during an internal or governmental audit of an organizations IT and Cybersecurity workforce.
Request More InformationJoin Our Online Mentoring Community

A full listing and description of the programs listed below can be found here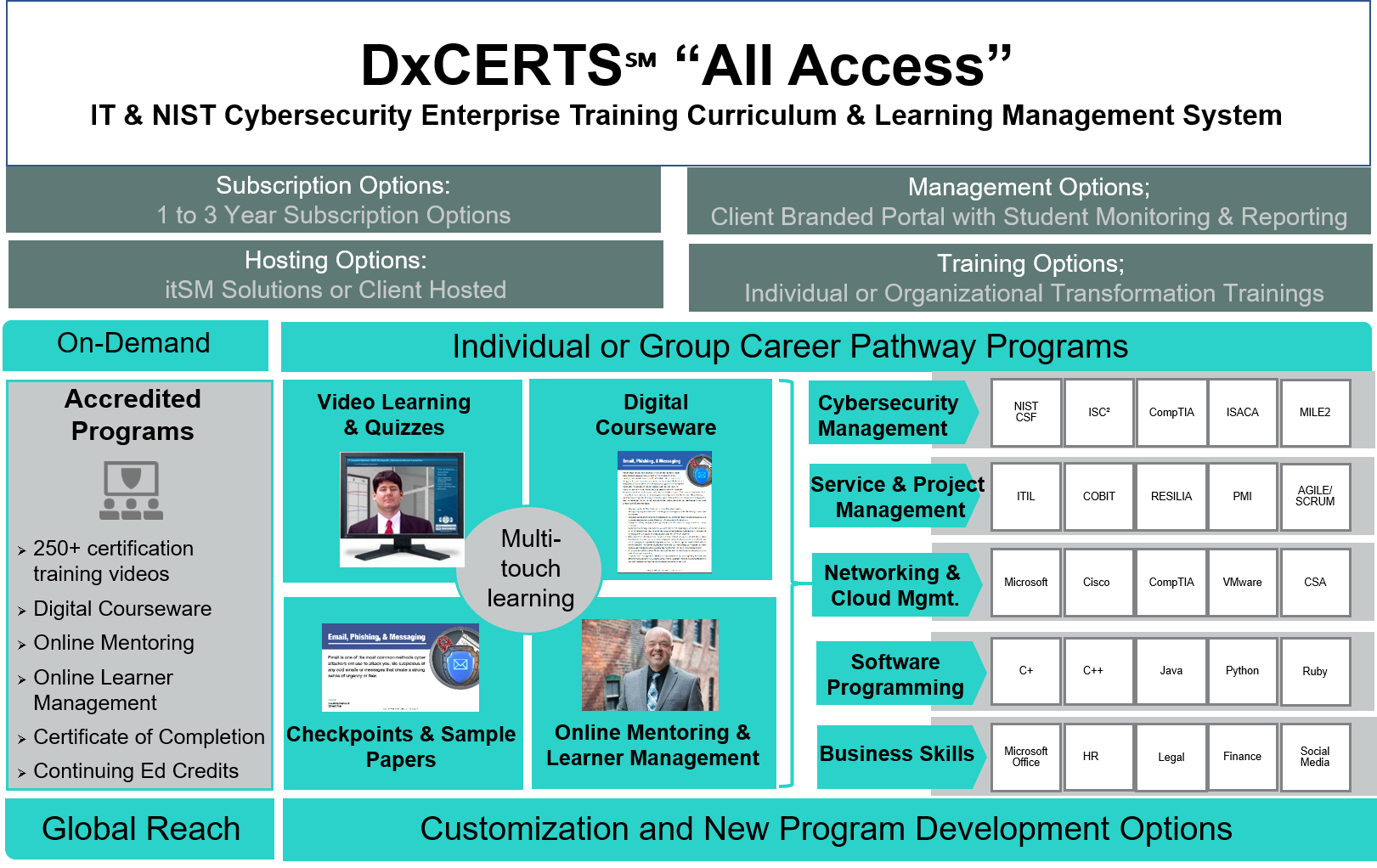 Case Studies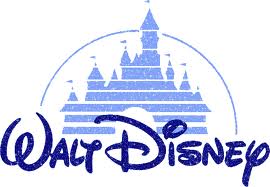 Getting widespread adoption of a new method or way of working in such a large organization is no mean feat. 'With over 700 domestic IT cast, we simply can't adopt large-scale change overnight,' he explains. 'Where I talk about best practice and ITIL integration, at the start of the process, the staff only know how we do business. They are unaware of both ITIL and our interest in it. The first step is to make them part of Disney's ITIL® Journey.
Click here to learn more about the enterprise program we built for Disney


Rick Lemieux from itSM Solutions was involved in helping the IRS roll out its ITIL training program from the beginning. 'ITIL V3's focus on continual service improvement and putting the customer first fit well with the IRS's objectives, so we took some time educating the executive teams on the benefits of ITIL V3. This wasn't a hard sell because everyone could see the synergy there, but understanding the fit doesn't mean you can roll it out instantly.
Click here to learn more about the enterprise program we built for the IRS
Copyright © 2017 itSM Solutions LLC