NCSP Presentation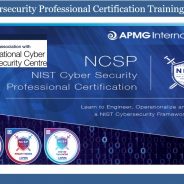 The NIST Cybersecurity Framework (NIST-CSF) was created under Executive Order to provide a uniform standard that government and businesses could adopt to guide their cybersecurity activities and risk management programs.
The NIST Framework has now been approved as the governing framework for the US government, a growing number of critical infrastructure sectors (financial services, healthcare, energy etc.) and a long list of international governments.
Enterprise Risk Management Frameworks were created to help executives prioritize cybersecurity investments by aligning those investments with the organizations enterprise risk management policies. Sample Enterprise Risk Management Frameworks include ISO27005, ISO 31000, Mehari, Ebios, NIST and The Committee of Sponsoring Organizations (COSO) COSO.
The COSO Framework has now been approved as the governing framework for enterprise risk management by the following institutes and associations:
– American Accounting Association
– American Institute of CPAs
– Financial Executives International
– The Institute of Internal Auditors
– The Institute of Management Accountants