NCSF Credentials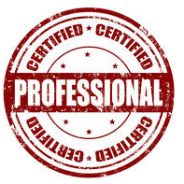 Oftentimes, people mistake a "certificate of completion," or "assessment-based certificates," or even digital badges as a "professional certification" or "credential." After extensive research I found what I believe to be the best description of the three from the Grant Professionals Certification Institute
The National Organization for Competency Assurance (NOCA) provides a clear distinction between these three terms. Established in 1977, NOCA is the leader in setting quality standards for credentialing organizations and through its division, the National Commission for Certifying Agencies (NCCA), has provided more than 30 years of accrediting services to the credentialing industry. NOCA is accredited by the American National Standards Institute (ANSI) as a developer of American National Standards. As described in it's published Background Information ANSI/NOCA 11000 Standard for Assessment-based Certificate Programs (Knapp, Kendzel) 2009, NOCA defines the three terms in the following way.
Certificate of Attendance or Participation (i.e., digital badge)
Provided to individuals (participants) who have attended or participated in classes, courses, or other education/training programs or events.
Demonstrating accomplishment of the intended learning outcomes by participants is NOT a requirement for receiving the certificate.
Assessment-Based Certificate Programs
Provides instruction and training to aid participants in acquiring specific knowledge, skills, and/or competencies associated with intended learning outcomes.
Evaluates participants' accomplishment of the intended learning outcomes.
Awards a certificate only to those participants who meet the performance, proficiency, or passing standard for the assessment(s) (hence the term, "assessment-based certificate program").
Professional Certification
Time-limited recognition and use of a credential to individuals who have demonstrated that they have met predetermined and standardized criteria for required knowledge, skills, or competencies.
Primary focus on assessment (as opposed to providing education/ training); independence of the assessment process from any education/training program or provider.
Linkage of the assessment to predetermined standards for knowledge, skills, or competencies, rather than to the learning outcomes of a particular education/training program.
The ability of certificant's to use a credential or letters following their names to indicate they have satisfactorily met the requirements for certification.
Furthermore, in accordance with NOCA and ANSI standards pertaining to testing and credentialing, a professional credential must be developed following rigorous psychometric protocols. These protocols dictate, among others, that an educational program cannot also issue a professional credential upon completion of coursework; that the psychometric protocols used to design and implement the certification tool, including validity and reliability outcomes, must be published; and that the test's content must be validated, in part, through a statistically designed task analysis that canvassed the profession. There appears to be no other organization today that has completed these or any other established protocols for grant professionals' certification.
When you see the terms "certificate" or "certification" bantered about in marketing materials and promotions, take a moment to determine if the noted "certificate" is a certificate of completion, an assessment-based certificate tied to a particular training or a profession certificate designed within the strict guidelines described above. And remember: a certificate of attendance or completion states that an individual has completed a class or course and achieved a certain level of success in understanding the principles taught in the course. A professional certification or credential is an objective measure of a person's level of experience and expertise in the profession — as defined independently by the profession as a whole.
Summary
While I'm a big fan of continuing education programs I think things have gotten a bit out of control where anyone with a web site and a few videos can stand up a program and issue you what they classify as a professional credential. Just because I watched a few videos on You Tube to fix my dishwasher does not make me a certified appliance repairman. When creating your cybersecurity career pathway be sure to do your research to select programs that have been formally accredited and deliver the value employers are looking for.
The UMass Lowell NCSF-CFM certification programs are accredited by the certification body Acquiros (www.acquiros.com). Successful completion of the programs qualify students to sit for the Acquiros NCSF-CFM certification exams. The NCSF-CFM programs also qualify for continuing education credits such as PDU's and CEU's to maintain ones professional certification status . Students who successfully complete the certification program and its exam and meet university requirements may transfer credits and enroll in one of UMass Lowell's master's degree programs in information technology, such as network security or cybersecurity. Those interested in taking the courses may find that programs such as workforce development, the G.I. Bill, apprenticeships, internships, employers and others will fund their participation.