NCSF Assessment Training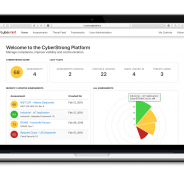 NISTCSF.COM is a NIST Cybersecurity Curricula Consortium created by itSM Solutions, Academia and other industry partners to create a standardized set of accredited curricula for NIST Cybersecurity Framework design, implementation and workforce development.
The consortium's goal is to provide high schools, community colleges, universities and private training institutions access to print, digital book and video cybersecurity curricula that can be delivered in a classroom, virtual classroom, as a self paced video or a blended learning training program.

NIST Cybersecurity Framework Training Programs
NISTCSF.COM inaugural training program NCSF-CFM was built in partnership with UMass Lowell (UML) a NSA/DHS National Center of Academic Excellence in Cyber Defense Research (CAE-R) and the owners of the NCSF Controls Factory™ A Methodology to Design, Build, Test and Manage a Cybersecurity Program Based on the NIST Cybersecurity Framework
The UMass Lowell NIST Cybersecurity Framework – Controls Factory Model™ (NCSF-CFM) training program was created by Larry Wilson the CISO in the UMass president's office. The program was used to train the engineering, operations and business teams responsible for operationalizing the NIST Cybersecurity Framework Program controls (CIS 20 Critical Controls, ISO27001, NIST 800-53, NIST 800-171, PCI, AICPA etc.) across the university five campuses and its supply chain. The NCSF-CFM program has since been used to train other universities, governments and private corporations to do the same.
NCSF-CFM Controls Factory Overview
The program teaches the knowledge, skills and abilities to:
Develop a strategy to educate executives and board members about the NIST Cybersecurity Framework (NCSF) and why they should allocate funding to launch and maintain a program
Create a Cybersecurity Program that will become policy for an organization or industry association
Engineer a solution to operationalize the cybersecurity program across an enterprise and its supply chain using the UMass Lowell NCSF Controls Factory™ Model (NCSF-CFM)
Build and Operate a Security Operations Center (SOC) to continuously monitor and respond to changes in the cybersecurity profile documented in the cybersecurity program
Conduct continuous Business Risk assessments to compare the current profile against the target profile (documented in the program) to identify any gaps that need to be addressed
Prepare for the IT, Information Security and Business Skill certification exams outlined in the NICE Cybersecurity Workforce Framework (NCWF)


The NCSF-CFM program and its author have won the following industry awards:

Security Magazine's Most Influential People in Security, 2016
SANS People Who Made a Difference in Cybersecurity Award, 2013
Information Security Executive (ISE) nominee for Executive of the Year for North America, 2013
ISE North America Project Award Winner I for the Academic and Public-Sector Category, 2013

NIST Cybersecurity Framework Certification Training Programs


NIST Cybersecurity Framework (NCSF) Awareness Training – This 1 hour video training program introduces students to the basic concepts associated with the NIST Cybersecurity Framework.
NCSF Awareness Video Sample
Buy a Video Training License





NCSF-CFM Foundation Certification Training – This 1 day classroom or four-hour video program teaches the fundamentals of the NIST Cybersecurity Framework (NCSF).
NCSF Foundation Video Sample
Register for a NCSF-CFM Classroom Program
Buy a Video Training License
Buy an NCSF-CFM Exam Voucher
NCSF Foundation Syllabus & Outline
NCSF Foundation Exam and Credit FAQ's

NCSF-CFM Practitioner Certification Training – This 4 day or 10 hour video program teaches the advanced skills on how to engineer, operate and improve a NIST Cybersecurity Framework program.

NCSF Practitioner Video Sample
Register for a NCSF-CFM Classroom Program
Buy a Video Training License
Buy an NCSF-CFM Exam Voucher
NCSF Practitioner Syllabus & Outline
NCSF Practitioner Exam and Credit FAQ's

NCSF-CFM Practitioner Boot Camp Certification Training – This 5 day or 14 hour video training boot camp combines the NCSF-CFM Foundation + Practitioner classes into a one week program with one exam.

Register for a NCSF-CFM Classroom Program
Buy a Video Training License
Buy an NCSF-CFM Exam Voucher
NCSF-CFM Boot Camp Course Datasheet & Outline
NCSF Boot Camp Exam and Credit FAQ's

NICE Cybersecurity Workforce Framework (NCWF) Practitioner Certification Training Library – This video training library provides access to 190+ video training programs to prepare for the NICE Workforce Framework IT and Business certifications for IT Service Management, Networking, Project Management, Cybersecurity, Office Productivity Tools, Business Skills, Software Programming and Cloud Computing.

Buy a Video Library License
NCWF NICE Certification Datasheet & Course Outlines


NIST Cybersecurity Framework Assessment Training Program


NCSF Assessment Certification Training – This combined program of online NCSF-CFM training and assessment platform allows companies of any size to quickly assess its alignment with the NCSF and other industry best practice frameworks.

Buy an Assessment Training Kit
Buy an NCSF-CFM Exam Voucher
NCSF Assessment Datasheet
NCSF Assessment Video Sample

NIST Cybersecurity Framework Employee Training Programs

NIST Cybersecurity Framework Employee Awareness Training Programs include online self-paced games, animations and simulation training programs for phishing, social engineering, online safety, social media, BYOD (Bring Your Own Device), removable media, password safety, personal information, information handling and remote and mobile working.

RESILIA™ FRONTLINE Employee Cybersecurity Awareness Datasheet
Request More Information

NIST Cybersecurity Framework Simulation Training
itSM's Oceans99 1/2 day simulation program can be used to create executive and boardroom decisions, as well as broad awareness for both IT and non-IT staff on the importance of cybersecurity 'behavior' and ' discipline' as well as how to translate security and risk theory into practice.

OCEANS99 Cybersecurity Simulation Datasheet
Request More Information

Course Credits

Most programs come with a certificate of completion and continuing education credits, such as PDU and CEUs. Students who successfully complete the certification program and its exam and meet university requirements may transfer credits and enroll in one of UMass Lowell's master's degree programs in information technology, such as network security or cybersecurity. Those interested in taking the courses may find that programs such as workforce development, the G.I. Bill, apprenticeships, internships, employers and others will fund their participation.

Copyright © 2017 itSM Solutions LLC